Chef-Owned, Chef-Operated, Chef-Driven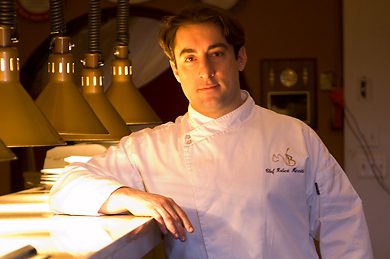 Catering OUTSIDE THE BOX,
not OUT OF A BOX!
The most important thing to understand about Bacio Catering is that the Chef and owner is the one who personally handles every order, not a commissioned salesperson or catering manager.
 Every order is tailored to meet your specific needs and budget.  It is this level of service along with fine dining quality cuisine that is the hallmark of Bacio Catering.
Chef Robert Minniti and his wife Pamela have developed an extensive catering program based on highly personalized service and consistently excellent quality at a very affordable price.
Over the past 20 years, Chef Robert (Graduate of the Culinary Institute of America, Hyde Park NY) honed his considerable skills running several fine dining establishments which have received numerous accolades and sparkling reviews.
He now uses these skills to create some of the best catering cuisine in South Jersey.
our services
Weddings
Banquet Receptions
Corporate Events
Luncheon and Dinner Packages
Servers, Chefs and Bartenders
Local delivery and Set-up
All rental needs
Thank you for helping to make our party a huge success. The food was delicious!! Everyone truly enjoyed the selection. Although we did have leftovers, people were able to take your yummy food home with them. Thanks again. You are terrific!

A gem of a restaurant in Palmyra NJ! Thank you Chef Rob. Everything was delicious from the amazing appetizers to the five star main courses. The deserts I will rate as "OMG"!!! Must try the tiramisu! Can't wait to come back again and again and again!!!!

The owner of Bacio, Chef Robert, was nothing but kind, patient and courteous. Customer service was truly amazing! The food was nothing short of that...delicious and loved by all at our event. I would highly recommend Bacio Catering for any of your catering needs! And I cannot wait to get to their restaurant for a sit down meal soon. Thank you so much Chef Robert for helping to make my daughter's Communion a success!

Had the most amazing meal. I highly recommend trying this restaurant. The sea bass was simply amazing!!! No need to drive to Philly when this is in your backyard. Best meal I've had in a long time!!

Bacio just catered my birthday party for 70 guests and we could not have been happier! The entire process was seamless and they were excellent at communicating and helping us to modify our menu. The food was excellent and they brought everything I needed, plates, napkins, utensils - you name it! Best of all, the server Brandon was amazing! I felt like a guest at my own party and he even cleaned up and put all the food away before he left! A great experience!

We knew once we met with Chef Robert that we had chosen the best caterer for our backyard event. He created the perfect menu, from appetizers to desserts, all of which got fabulous reviews from our guests. And the servers couldn't have been more professional or nicer; they wore masks the entire time and helped us observe social distancing while serving. Brandon managed everything perfectly. We highly recommend Bacio and will use them for our next event.

Growing up with a professional chef as a father, I spent a great deal of my childhood in commercial kitchens being absolutely spoiled by men who devoted their lives to perfecting their chosen specialties. I can assure you these five stars are well earned and you are absolutely deserving of them due to the quality of product you put out across the board......