Chef-Owned, Chef-Operated, Chef-Driven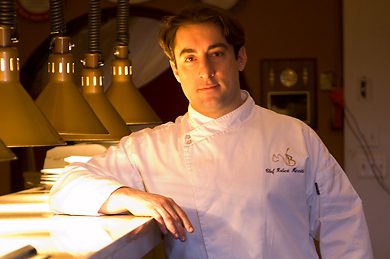 Catering OUTSIDE THE BOX,
not OUT OF A BOX!
The most important thing to understand about Bacio Catering is that the Chef and owner is the one who personally handles every order, not a commissioned salesperson or catering manager.
 Every order is tailored to meet your specific needs and budget.  It is this level of service along with fine dining quality cuisine that is the hallmark of Bacio Catering.
Chef Robert Minniti and his wife Pamela have developed an extensive catering program based on highly personalized service and consistently excellent quality at a very affordable price.
Over the past 20 years, Chef Robert (Graduate of the Culinary Institute of America, Hyde Park NY) honed his considerable skills running several fine dining establishments which have received numerous accolades and sparkling reviews.
He now uses these skills to create some of the best catering cuisine in South Jersey.
our services
Weddings
Banquet Receptions
Corporate Events
Luncheon and Dinner Packages
Servers, Chefs and Bartenders
Local delivery and Set-up
All rental needs
We contacted Chef Robert to make arrangements for a funeral luncheon. He was so professional, kind and knowledgable. His experience made us feel at ease immediately. Every detail was taken care of… The food, the linens, the servers. There was no stress. On the day of the luncheon, the food was hot and delicious! The chicken marsala and brownies were personal favorites. Many in attendance had seconds. Our servers were professional, caring and attentive! Our venue was left spotless. We couldn't have asked for a better experience! Thank you!

Bacio was our wedding caterer on October 7th and Chef Robert and his staff went above and beyond for us! They were so easy to work with, incredibly helpful, professional and fun! The entire wedding planning period was so easy because of Chef Robert's expertise - we did not worry about a thing! I truthfully cannot recommend anyone higher and will be using them for our events in the future for sure!! From the bottom on our hearts, a huge thank you to Chef Robert, Brandon and the rest of the Bacio staff!!

Chef Robert is the man!! We used Bacio catering for our wedding at the Moorestown Community House. This guy knows his stuff! He customized the menu to our preferences and made great suggestions when we were unsure of certain things. He and his staff work like a well oiled machine, we were really impressed by their efficiency, talent, and attentiveness! Chef Robert is more than just a caterer - he helped organize the flow of the evening, room layout, and met with us several times before the wedding to ensure we were all on the same page. I was surprised to see him interacting with our guests, they really loved it! A few even told us afterwards how helpful and humorous he is. He really went above and beyond our expectations and truly cares about his clients. Thank you for a fantastic experience Chef! We love the peach bread pudding!!!

Best Baby Shower!! From the moment I contacted Bacio Kitchen I knew I was in great hands. First I had dinner there so I could see the restaurant. The food was OUT OF THIS WORLD!!! I knew I had to book this place for my daughter's baby shower. Chef Robert was very responsive and helped me plan the perfect event. The day of the shower I was so happy with the way the space looked. And the food. BEAUTIFUL and DELICIOUS. All of my guest loved it. Thank you Chef Robert and our server Brandon. He was a gem!! Highly recommend for a small gathering of 36 or less.

So there is a reason why this place has 5 stars. I want to tell everyone not to be afraid of ordering take-out. I know this is a restaurant and catering place, but the takeaway is JUST AMAZING. Delicious. The customer service is EXCELLENT. I have not heard such a pleasant and friendly person on the phone since the start of the pandemic. I highly recommend that you try Bacio's. Pictured below is there amazing Chicken Diavlo Pizza and their Cannoli's are FRESH. *chef's kiss* Thank you so much Bacio's!

Chef Robert and his staff catered our event for 500 people flawlessly! The food exceeded our expectations by miles. Just amazing! And his staff were beyond professional. Even after changing our head count 3 times, Bacio pulled it off perfectly. Thank you Robert, can't wait to use you again!!!

Growing up with a professional chef as a father, I spent a great deal of my childhood in commercial kitchens being absolutely spoiled by men who devoted their lives to perfecting their chosen specialties. I can assure you these five stars are well earned and you are absolutely deserving of them due to the quality of product you put out across the board......